Most college students my age binge drink, but me? I binge WATCH. Okay, kind of lame, I know, but at least I can admit it! Although I do sometimes enjoy a night out with my girls, my go-to is definitely watching Netflix on my laptop in bed until my eyes burn, using my roommates Netflix account of course. If you aren't an avid watcher like me, I guarantee you will be after watching a few episodes of my favorite shows:
1. Friends:
Oh my goodness gracious, you guys!!! I cannot believe it took me 21 years to come to my senses and watch Friends; this is truly a classic. Every episode is corny, yet hilarious, and reminds me of all the funny things the mid-90's and early-2000's had to offer. 10 seasons, 236 episodes of pure gold.
2. The Office
Okay this is a total given. Who HASN'T seen at least a few episodes of The Office? I mean for god's sake, my roommate has watched every single episode at least 4 times over and can recite every line. It has incredibly awkward humor, a diverse array of characters, and I kid you not one of the best love stories I have ever seen. 9 seasons, 201 episodes of hilarity.
3. Shameless
This show is incredibly dark, disgusting at times, and insanely twisted, but I LOVE IT. I'M HOOKED. I NEED MORE. Everyone on this show is a hot mess, and what could you enjoy watching more than people who make YOU feel sane? This show is even still running currently in season 7, and it hasn't come down on the crazy scale just yet. There are currently 81 episodes on Netflix.
4. New Girl
Zooey Deschanel is one of my favorite people, like ever. The story line is Jess, Zooey's character moves in with an apartment of all men. It shows the difficulty of being broke, dating, and a great amount on the unique and totally cool friendships we can build with members of the opposite sex. This show currently has 121 episodes available for your Netflix binging needs.
5. Orange is the New Black
I obviously tend to only watch shows that are based on humor, which this show doesn't necessarily lack, but it has a more serious plot than any other show I enjoy. This show seriously BLEW UP like 2 years ago and after finally sitting down and giving it a chance I could totally tell why. Although some of the scenes are a little bit out there, this show brings awareness to social issues and really makes a statement. And with only 52 episodes available to watch on Netflix, the commitment of starting to watch isn't so intimidating!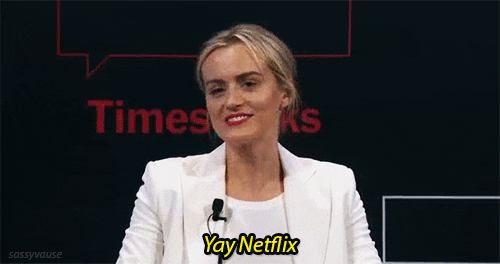 Throw on your sweatpants, make yourself a snack (or 7), and settle in for a wicked crazy night of Netflix and Chillin'.